Removable adhesive:
Alias: water-based PVC adhesive, the main material is PVC
Mainly used in the advertising printing industry. The obvious advantage of removable adhesive is that it can be attached to smooth materials such as marble, glass, acrylic sheet, etc., and it can be torn off freely without leaving traces, which can protect the environment.
Body stickers:
The structure includes three parts: PVC functional layer, adhesive layer and backing paper. According to the different production and processing technology of PVC film, the film can be divided into casting grade film and calender film. Domestic manufacturers mainly use calender grade PVC film. Its main characteristics include: thickness (0.075-0.1) mm; No need to transfer paper; large shrinkage rate; medium and short-term use; used for flat or small curved surfaces; general weather resistance and chemical corrosion resistance. At present, the international market is mainly based on casting-grade body stickers, and the main manufacturers are represented by 3M and AVERY , Domestic manufacturers are limited in production technology and cannot realize the localization of casting-grade body stickers.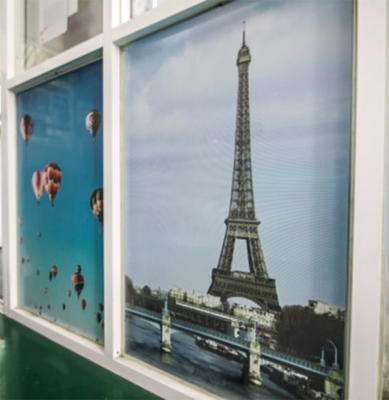 The difference between removable adhesive and car sticker:
1. The difference from the screen printing method: the removable adhesive is the indoor photo, and the water-based ink is used; the car sticker is usually the external eco-solvent ink printing. Water-based ink is not waterproof or sun-proof, so removable adhesives are mainly used indoors. The car sticker uses waterproof sunscreen ink
2. Application difference:
1. The removable adhesive can only be used once. The so-called removable means that the removable adhesive is attached to the surface of glass, acrylic, fireproof board, aluminum-plastic board, wood board, etc., without damaging the surface of the advertising floor, and facilitates the removal of advertisements in the future without leaving any residue. Good quality removable adhesive, even glue stains will not remain.
2. Car stickers are mainly used in automobile (BUS, taxi, truck) advertisements, floor stickers, outdoor advertisements, outdoor signs, three-sided flips, etc. The car sticker has good weather resistance. They are usually removable. However, because the accuracy of inkjet painting is not up to the accuracy of indoor pictures, it is rarely used indoors.
3. The difference of the material itself: The removable adhesive has a coating on the surface, which will stick to water. The surface of the car sticker is uncoated.